For the last two seasons we have been running our Rhoades Car 4W2PCP on the tires that came with it from the factory. These are Chinese-made Cheng Shin tires 20 X 2.125 with a knobby tread on them. These have a maximum inflation pressure of 35 psi. They are actually wearing okay and would probably last a couple more years at the current rate of wear.
While the Cheng Shins are okay, they aren't ideal for the Rhoades Car. The factory probably used them because they are an all-around compromise tire for on-road and off-road use and also because they are cheap.
Readers of this blog will know that our regular contributor, Gordon Koppang, has written much about tires, having examined probably every tire that comes in the small 20 inch size that fits the Rhoades Car rims. Gordon was actually getting ready to install a pair of German-made Schwalbe Big Apple 20 X 2.35 tires when he sold his Rhoades Car and bought a trike instead. Gordon sold us his Big Apples to use on our Rhoades Car. These are the really "big" Big Apples with the 2.35" width.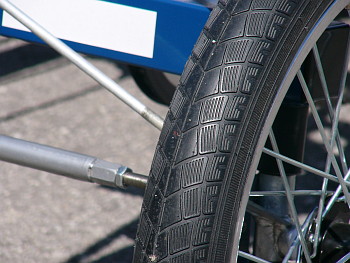 Once I got the tires and had a look at them I liked the way they were built. The tread is very slick indeed, low profile and low drag, definitely an on-road tire, but then on-road is where we do all our riding these days, anyway. The tires have a good height, meaning that they would give a bigger diameter to the overall wheel-tire combination, plus good shock absorbing. They also incorporate a built-in Kevlar layer for spike protection and a reflector stripe on the sidewalls that would look good at night. Best of all they are rated for up to 60 psi, which combined with the slick tread means that they should be fast on asphalt. Gordon only got two for the rear wheels on his Rhoades Car, but I really didn't want to install just two. If we were going to go "Big Apple" then I wanted to get the full benefit of these tires. So I called up my local bike shop here in South Ottawa, Rebec and Kroes and they were able to order me another pair.
The second pair took ten days to come in, and cost $43.50 each, but they were worth the wait.
Today we installed them, using the existing tubes I had. This was easy on the Rhoades Car, because you don't have to remove the wheels to change the tires, a great design feature. All I did was block up the frame and swap the tires, which took under an hour to do all four. After pumping them up to 50 psi (10 psi under max rating) I took the quadracycle out on the road to give it a solo test run. The first thing I noticed was that solo, if you step on the gas you can spin the tires in low gear from a standing start! I did a couple of runs and there is no doubt that they make the cycle faster, both in top speed and acceleration. We didn't have any reliable means of figuring out how much faster, but it is noticeable when riding.
So next Ruth and I decided to make a local run down to Giant Tiger to get some milk and give them a workout. This is a 6 km round trip, so while it isn't far it does give a good run on the local asphalt streets, including stops, starts and lots of turns. Our overall impressions? The Big Apples are superior in every respect to the Cheng Shins, except perhaps in price. Our top speed was higher, as was acceleration while braking was still good. The cycle has more suspension effect from the new tires because, even though they are higher pressure, they are a higher profile. They definitely smooth out the bumps. As a bonus they really reduce road noise as well. The knobby Cheng Shins are loud on hard surfaces, especially when cornering. With the Big Apples cornering is actually easier and much quieter as well. Even when going straight and level the Big Apples are very quiet.
So our conclusion is that if you are looking for tires for your Rhoades Car, the Schwalbe Big Apples in 20 X 2.35 can't be beat, although expect to pay close to Cdn$200 for a set of four of them. They aren't cheap, but they are worthwhile.
Total quadracycling for 2009 so far - 15 km