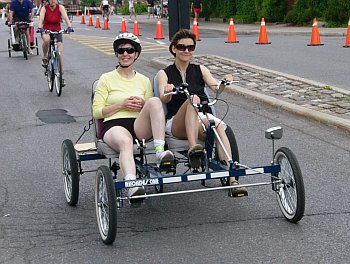 As recently mentioned, the weather through most of May 2008 was pretty poor, with high winds, rain and cool temperatures. That all changed this weekend when the summer heat and humidity finally arrived. After May, we aren't complaining about the summer weather.
So since the weather was cooperating we took our friend Jane and decided to quadracycle the Colonel By Drive on Sunday Bike Day. Ruth and Jane took the Rhoades Car and, since it only has two seats, I rode my 1986 Norco mountain bike.
The day was warm, already over 20C, when we left the house at 0830. A bit of a south wind helped on the way into town, but slowed us down on the return trip. The motor vehicle traffic was light on the way up to Hogs Back Falls and the beginning of the Colonel By Drive.
Ruth and Jane actually made good time and I had to work keeping up with them in some places. Not actually driving the quadracycle also gave me a chance to get some photos of the vehicle on this trip.
Have a look a the photos in our photo gallery!
Despite the nice weather there were not many people on the Colonel By Drive, perhaps the humidity convinced them to all hide indoors?
Typically, Ruth and Jane set as a goal reaching the Second Cup on Laurier Avenue, where Jane got a cold coffee something. Ruth was looking for a decaf espresso, but there is no such thing and so came away empty-handed for once!
The trip back south was a little slower with the headwind and more hills to climb up, but we were all home an hour before lunchtime.
Jane enjoyed the trip - her first time out quadracycling!
In cleaning and oiling the quadracycle afterwards I discovered that we have a cracked left-rear derailleur! It was too hot outside to remove it for a closer look this afternoon, so I will take care of that tomorrow morning before the day warms up and see what the story is. The rear units are Sun Race and are very modular, so shouldn't be difficult to replace with a new one. I'll post more o
n this when I know what happened. I think we were lucky to have made it home!