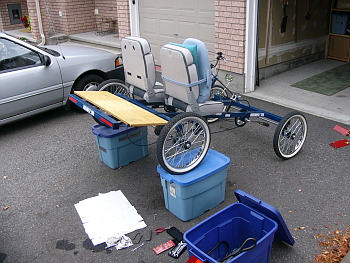 I think we have this problem solved, hopefully on a permanent basis.
I talked to both Beth Baker and David Rhoades at Rhoades Car yesterday. They were both, as always, very polite, concerned and helpful. Since our Rhoades Car is still under warranty I was offered another set of replacement dérailleurs. The problem is that Rhoades Car moved from using Shimano dérailleurs to SunRace a year or so ago and they only use SunRace now. It looks like our 4W2PCP is a bit of an anomaly as it has Shimanos on the front and SunRace on the rear. I thought this was due to some technical compatibility issue, but apparently it was just a case of expending stock of Shimanos.
Beth offered a replacement set of SunRace dérailleurs, but I opted instead to buy my own new Shimanos at our local bike shop here in south Ottawa, Rebec and Kroes. I really didn't see any point in having Beth send us another set of SunRace dérailleurs, since the last ones cracked after only 267.9 km.
Of interest our local bike shop don't deal in SunRace, as they have had quality issues with them in the past. They only stock Shimanos. These are a little more expensive, but in their opinion will last. We paid out Cdn$96.03 including taxes for a pair of new mid-line Shimanos. The ones I got were specifically the "short" models, with the idlers closer together. Shimano also make "long" dérailleurs, but these will not fit the Rhoades Car.
This morning I installed the Shimanos, without any serious difficulties. I adjusted them as per the instructions and then we took the 4W2P for a test drive and it all seems to work right. We have the full range of gears available and the shifting is definitely smoother than the old SunRace derailleurs were.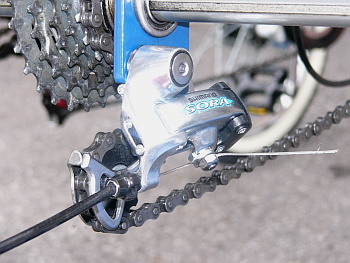 It is interesting to note that Rhoades Car have not had any other reports of cracked SunRace dérailleurs from customers. This could be because the customers have just replaced the dérailleurs themselves or because there haven't been any cracks found. Also, we have been in touch with other owners ourselves and have asked if anyone has found cracks and they haven't. We have even posted photos of the crack locations here on this blog, to aid owners in checking their dérailleurs and still no one else has reported any problems. If you have cracked dérailleurs, please do e-mail us or post a note here on this blog to let us know. If your Rhoades Car is under two years old then the parts are under warranty and you can get replacement SunRace dérailleurs from the factory. Service there is fast and friendly as always.
After we have put some kilometers on our Shimano dérailleurs I will write some more here just to let readers know how they are in service.