By Gordon Koppang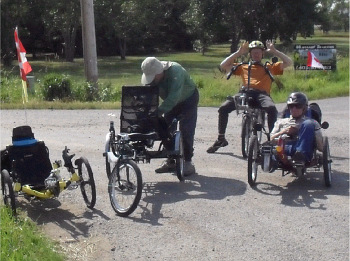 I've taken to calling our little band of recumbent riders "Team Euthanasia". We're
not only getting up in years, we put up with a variety of disabilities including post-
polio syndrome, Cerebral Palsy, and brain injury caused by stroke. Our friend
Scott has returned to cycling after enduring a severe case of Shingles that kept
him housebound all winter. The virus caused the usual Shingles horrors; it also
paralyzed Scott's right arm and hand! Only recently has Scott recovered enough
hand-function to get back on his trike. I don't like to venture out of town on my
own. With Scott in the injured list all through March, April, May, June and July, I
had not ridden any of our usual highway routes. Last Sunday, (August 26, 2012),
Scott, Mark and I rode what we call the "30km triangle". We were joined by our
friend Arlyn – a true hard-ass cyclist. A couple of years ago, Arlyn shipped his
Rans Rocket to Australia and rode about 5000 km in three months!
Of course, none of us could challenge Arlyn in terms of speed or stamina. I
struggled to pedal my heavy and aerodynamically challenged Sinner trike into the
steady 50km/hr "breeze". The first leg of the triangle is up-grade. Between the
terrain and the wind, I could barely exceed 10km/hr! These days Mark is riding
his third home-built trike. Trike number two was better. It's a long story, but the
moral is clear: "If you're going to build a trike with adjustments in the steering for
rake, camber and caster, don't try to save money by scrounging the parts from your
junk bins." With his front wheels steering independently of one another, Mark
struggled too. According to my GPS our average speed was just 13.9 km per hour.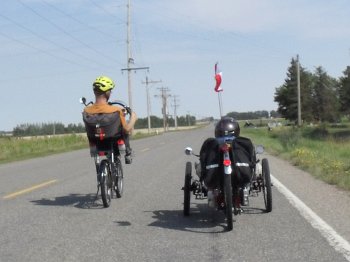 Apart from the need to occasionally spray down his nerve-damaged arm with a
cooling peppermint mist, Scott seemed to be in fine form. He rode taunting loops
around Mark and me every time he pedalled back to see why we were taking so
long. Arlyn must have been bored stiff. We would ride for a while and stop and
chat. Ride and stop. Ride and stop. Ride and stop. It took us almost five hours to
ride 30kms! That's what happens when Team Euthanasia starts "spring training"
in August. When we turned for home, the wind and the grade were in our favor. I
finally got up a bit of speed, topping out at just over 30 km/hr.
The last ten kilometres were agony for Mark; he was exhausted and having terrible
leg cramps. Unfortunately, nobody had thought to bring electrolytes or 5 Hour
Energy. We all made it home. A bit of salt and a night's sleep was all Mark
needed to recover. I'm sure we'll do it again.