By Gordon Koppang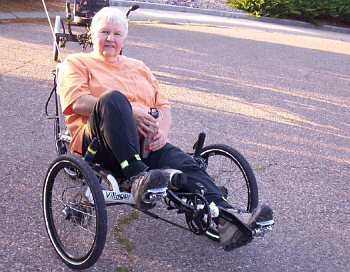 Since I got the Sinner, my friend Kathy has been trying out my "old" Catrike
Villager. Yesterday Kathy and I rode out to Harvest Haven (an all-organic
grocery store). We strapped Kathy's cooler to the Sinner's cargo rack and
headed for the country. With the wind at our backs and the grade in our
favor, the outbound leg of the trip was a cyclist's dream. Our average speed
was only 13km/hr, but we spent a good part of our time gliding along in the
low 20s.
Between the main road and the store there's a short section (less than 1km)
of genuine Alberta gravel road. This was test. Would the Sinner's rear
suspension and thick Marathon Plus tires prove to be worth their
weight
in comfort? Kathy rode ahead of me on the Villager (shod with skinny
Marathon Racers). From my vantage point on the Sinner I watched as she
juddered and jarred her way over and through the gravel. With its ultra-stiff
aluminum frame and short wheelbase, the Villager can be downright painful
in rough going. As I watched the continuous high amplitude shaking,
I could see what I had only felt before. Meaty tires, coil-over-damper
suspension and a thickly padded seat all contribute to the Sinner's titanic
weight (67 pounds!). I'm happy to report that those heavy bits also blunt the
nastiness of riding on gravel.
As we turned for home, the wind that had been at our backs was in our faces.
I like the Sinner's high, upright seat and wide handlebars, but they're a
liability when riding into wind. My average speed dropped to about 9km/hr.
The Sinner is heavy, but at least it's nice and slow. As my friend Scott loves
to point out, all that would change if I lost ten pounds. Ah well, I'm old and
I'm fat but Kathy and I got 30km of late-summer fresh air and sunshine and
that ain't bad.