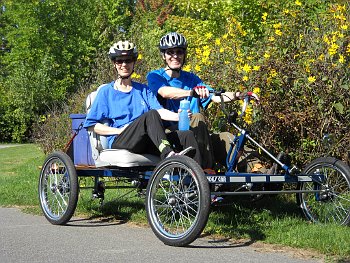 This week the weather has been marvelous, warm and dry, but not too hot. Ruth and I couldn't resist the opportunity to get the quadracycle out from the back of the garage where it had been relegated, pump up the tires to 60 psi and go for a run.
It was mid-morning and the day was just warming up from the overnight low of 12C, towards its afternoon forecast high of 28C. By shortly after ten o'clock it had crossed the threshold of 20C, a nice temperature for some quadracycle touring.
And so we backed out and headed off through the back streets, chatting with each other and waving to the pedestrians who stopped to watch us. When you ride a quadracycle you get used to people looking at you all the time, it just grabs people's attention.
We detoured to do a paved forest pathway trek, passing a few elderly dog-walkers along the route. We stopped in a sunny area to snap the photo seen above and have a drink of water. Then we carried on covering about 12 km altogether, most of it on roads. We heard the usual "wow is that neat" calls as we rode by.
We wound up back at home just in time for some lunch and to sweep out the garage before we filled it with pedal-powered vehicles once again.
If this is going to be a nice autumn season, then I think we will have our quadracycle out a few more times before the snow falls and you never quite know when that will be these days.