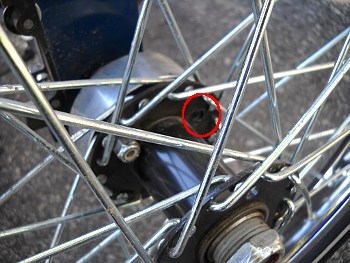 With October now here Ruth and I decided we had better get the quadracycle out for at least one last run before it gets too cold for cycling, but we didn't get far.
I was looking the quadracycle over while I topped up the tires, when I noticed some missing nuts on the brake hubs on the right-hand rear wheel. These are not the nuts that hold the wheels on, they are the nuts that hold the brake disks to the wheels. In this case two of the three nuts were gone, with only one nut holding the assembly in place.
We ran into
a similar problem
in 2009, when some of these self-locking nuts backed off. This time two of them were gone altogether. Of note the last time I this problem it was the left-hand rear wheel, this time it was the right hand.
Fixing it was a matter of getting some more self-locking nuts from Home Depot and then installing them, reassembling everything and testing it out.
A lot of the problems with the brake mounts are due to the fact that the brake-mounting system is not designed very well. One set of studs attaches the brake disk to the spacer and then another set of studs, with the nuts, attaches the spacer to the wheel. The brake disk actually covers up the other studs, which means that to check tightness you have to remove the wheel, the brakes and disks. While taking it apart is quite easy, assembly is not. If this had been better designed it would have made maintenance a lot easier.
Perhaps the newer model Rhoades Cars have solved this this?