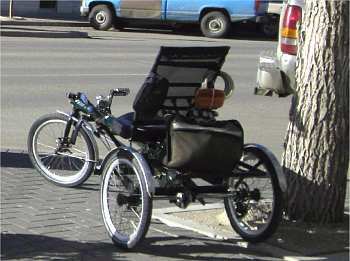 By Gordon Koppang
Things I like about the Sinner Comfort:
Good value. Large rear rack, rear suspension and 2-wheel-drive included in the base price.
Schwalbe Marathon Plus tires, Busch & Müller "Ixon Pure" front light, three aluminum fenders, Sigma 509 computer, bottle cage and spin bell all included. The complementary rear light was junk.
Quality components, fasteners and powdercoat.
80cm or 31.4 inches wide; fits through my balcony door.
Stands completely upright on its rear rack and tires.
High seat (Approx. 55 cm or 21.75 in.) makes for easy on and off.
Height of rear rack makes packing groceries into cargo bag easy. No more painful stooping.
Suspension takes the roughness out of back alleys and curb cuts.
Permanent mounts for front and rear lights.
Amazing traction from full-time 2-wheel-drive.
Highly adaptable mid-drive gearing.
Things I don't like:
The weight! 30kg or 67 pounds! Don't let the 6082 aluminium alloy fool you.
Three cassette sprockets used as spacers on the rear axle (Shame!).
Limited fore and aft adjustment for final drive chain. A tensioner is needed.
Overall impression:
An excellent shopping trike. Definitely not a sporting trike. Think "perambulator" or "invalid carriage". Built for Comfort not speed. Go slow and enjoy the ride.