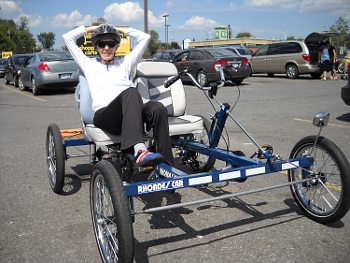 We have actually found a new use for the quadracycle.
Right now Ruth is in the middle of her second series of cancer radiation treatments. She is pretty tired out most of the time and hasn't been getting out much beyond the daily hospital trips for treatment. Because of her nephrostomy hardware she really can't ride her recumbent trike, as there is nowhere to put the bag.
All of these factors worked out well for a quadracycle ride, though. The more upright seating position means it doesn't interfere with the nephrostomy hardware and best of all I can do most of the pedaling and Ruth can help out on the pedals as she feels able to do so.
Along with a really nice Sunday today for weather, this all added up to a short 6 km quadracycle trip to Giant Tiger to get some milk and other groceries. Ruth really enjoyed getting a bit of exercise, as well as some sunshine. It was a nice break for her from being on the couch or in bed and the exercise seemed help reduce her leg pain to some degree as well.
I am sure we will get the quadracycle out for some more trips in the near future while Ruth is recovering from her treatment regimen.