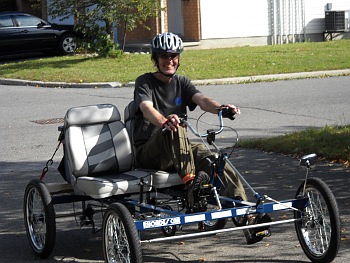 With a cold front on its way this evening our run of warm and dry weather over the past month seems to be coming to an end, heralding the beginning of cooler and wetter months before the snow falls.
With that in mind I decided to take advantage of the day and get the quadracycle out for a run around the local area. Ruth was too tired as her illness is getting worse and declined to even just sit in the passenger seat and not pedal. That left me with a solo trip, which I haven't done in a while. I pumped up the Schwable Big Apple tires and set off for a trip of about ten kilometers. The Rhoades Car is certainly a workout to pedal on your own and doing that keeps me in shape!
Not knowing if I will be able to get it out again for another trip or not, once I got home I lubed the four chains, the steering rod and the rear axle with oil and put it away for a while. Hopefully the fall weather will allow at least one more ride, but if not it is ready for winter.