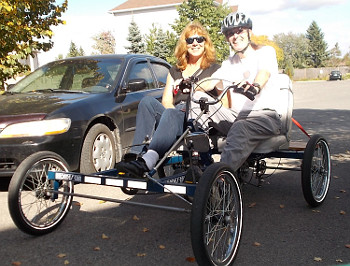 The past week and a half have featured amazing warm Indian Summer weather with no rain and lovely warm days. It might have been the best days of the summer, actually!
I haven't been able to get out and use the quadracycle very much this summer at all, so the last day of the Indian Summer period left a chance that could not be neglected, especially with rain and cooler temperatures in the forcast for the next week or so.
My friend Chris and I headed out after lunch as the temperature reached about 24C. We pedalled about 10 km in the warm sunshine, with only a bit of a southwesterly wind to contend with. We covered many of the streets in my neighbourhood, taking in the fall colours which seemed to be at a peak.
I am not sure if I will have the chance to get the quadracycle out again this year, but at least we had one lovely ride.