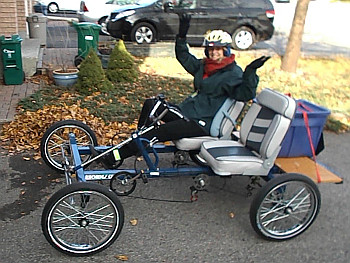 On 09 November 2014 Lynn went for her first quadracycle ride. She wanted to go up to Hogs Back Falls and the best way for both of us to get there was by quadracycle!
It was a cool day, only about +3C, but the sun was shining and there wasn't much wind. We dressed for the weather and we were very comfortable pedalling in those conditions.
The falls themselves were running pretty fast, as we have had lots of rain this fall and that has kept the Rideau River flowing at high levels. I shot a video of the trip and the falls.
I am not sure we will get to go quadracycling again this year, as it may snow any day. I don't ride the quadracycle in the winter, due to all the salt the city throws down, but snow does mean that XC ski season will be not far away.