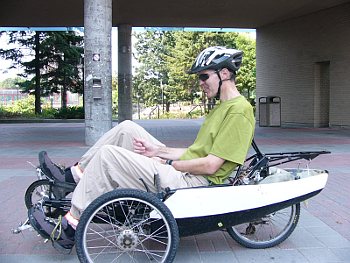 We recently made contact with
Jamil Shariff
who found us on though our website! Jamil is an Ottawa-based writer and consultant who works on green projects for
The Boxfish Group
. He is also the author of
50 Green projects for the Evil Genius
and rides a
Leitra Velomobile
, probably the only one in Ottawa.
Jamil was interested in meeting up with us to have a look at the Rhoades Car. He does fibreglass work and thinks that the 4W2PCP would be a candidate for a full fairing, like the Leitra has. I think that would be an interesting challenge, given the Rhoades Car's width, but Jamil thinks it would work well and probably not add more than about 25 lbs to the vehicle.
We met up with him on Sunday 16 August 2009 at the University of Ottawa. That was a good location, only a few blocks from his home and just off the Colonel By Drive on a Sunday Bike Day for us! We met there at 1000 hrs, which gave Ruth a chance to get a coffee at the Second Cup on Laurier Avenue first and then make the rendezvous. Jamil brought along his Leitra, sans the body fairing, as he indicated that it was pretty warm and humid out for the fairing. We all had a look at both vehicles, took a bunch of photos and then swapped to head out for a run on the Colonel By southbound. Jamil drove the 4W2PCP with Ruth and I tried out the Leitra, then Ruth took a turn on the velomobile.
The Leitra actually works quite well. Without the fairing it is just a welded tubular steel framed tadpole trike with standard bike components, six rear-mounted gears, a single Shimano derailleur, one rear caliper brake and two front drum brakes. The steering is a curious lever-controlled system, operating through a series of scissors that makes for a very compact set up. Actually the whole vehicle is small and compact, as well as low to the ground. The steering is very sensitive, even compared to the Rhoades Car. The gearing has a very narrow range and it took me a few tries to figure out which gears were low and which were high, they are that close together. This model previously had an electric motor installed and Jamil indicated that the gearing worked better with the motor.
The velomobile is pretty light in weight and accelerates quickly. For me at least the ergonomics are pretty good and I could generate fairly good leg power. Jamil has built a carbon-fibre seat for it and I rode on that without a cushion. It really needs the cushion as the seat back wasn't that comfortable. When Ruth tried it she found the set-up was too tall for her to ride properly, but then I should have put her ObusForme behind her!
I found the trike remarkably stable on the road and easy to pedal. I can see how, with the right cushions that you could comfortably cover long distances with it.
Jamil enjoyed his ride on the Rhoades Car and we guided the two vehicles down the parkway for a few kilometres before we had to head home. It would be interesting on a cooler day to try out the Leitra with the fairing installed and see if it provides any speed advantages through drag reduction. With its windshield it would certainly provide good weather protection.
I have often hoped that velomobiles would catch on better in North America, as they seem to be popular only in Europe, especially in Germany, Denmark and the northern parts of the continent. Given what is going to happen to gas prices in the near future (again) there would seem to be a good market for these almost all-weather vehicles here in Canada, with our climate. I think most of the lack of interest is a "social normativity" problem. Here in North America velomobiles are only seen in commercials for green products and thus seem to be considered part of the "ultra-green fringe". Hopefully that will change.
Total quadracycling for 2009 so far - 268 km