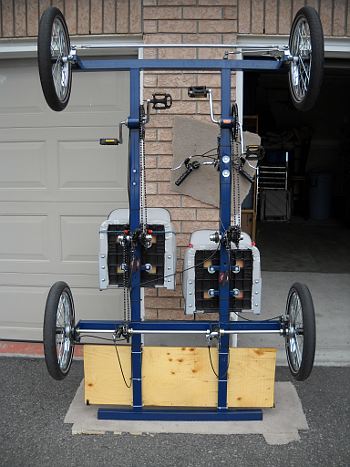 The month of April this year was very wet and very cool as well. Even here in early May the weather has not warmed up yet. Today we made it to just 15C. Ruth has a plan to build a solar oven to use this summer. We have already made a cardboard model that works somewhat, but she has her heart set on creating a real solar oven out of wood and glass. That, plus the somewhat not-as-cold-as-it-could-have-been day today gave us a reason to go out around the neighbourhood, to look for yard sales and the chance to pick up some glass cheap.
The quadracycle was the obvious choice for this venture as, if we found some glass or even a complete window frame, we could easily take it home in a bin on the back of the quadracycle.
Due to the weather we hadn't had the vehicle out at all this year yet, so I rolled it out into the driveway in the mid-morning cool air, pumped up the Schwalbe Big Apple tires to 60 psi and oiled the chains. I checked it over and it all looked good to go. We made up a plan of geographic areas to cover and set off, but we didn't get far. Just two kilometres from home we stopped at a stop sign. Then when it was our turn to go, I accelerated, heard a quiet pop and lost all drive on my side. Ruth got us around the corner, we pulled over and found a broken left rear chain. The link was popped open and the rivet was gone.
I took out the old rubber gloves, packed up the chain in a plastic bag and Ruth pedalled us slowly home. I wasn't impressed. Once back home we rolled out our Catrikes and completed the trip at high speed, but without finding any yard sales. It was too early in the year, I suppose.
After lunch I had a close look at the chain. It didn't look too badly worn at all. I measured 24 links at 12.5 inches. My bike repair manual says that test should be under 12 inches. So I took out my old Norco Alpine mountain bike and transported the chain up to our local bike shop, Rebec and Kroes, for their expert opinion. Their opinion was that it was past its "best before date", worn beyond limits. They asked me how many kilometres were on it, but I wasn't sure. I doubt there are more than 1000! They suggested that perhaps the quadracycle is stressful on chains. That is possible, as it certainly was stressful on SunRace derailleurs! Regardless they sold me a new SRAM chain.
So I took the chain home, put on my coveralls and decided to take the easy way out and propped the quadracycle up against the wall, padding the bumper on a piece of carpet. That worked very well and made it easy to inspect the whole underside, as well as easily change the chain. A few minutes later the quadracycle was back on the road and tested just fine.
Now we should be able to get out on the May long weekend and check the yard sales. Maybe Ruth will find her piece of glass?
My only worry now is about the other three chains!